Gutters are usually one of the most overlooked causes of home foundation damage, and the solution is very simple: a regularly scheduled cleaning. Particularly here in North Carolina, it is common for gutters to fill up with pine straw along with leaves, dirt, and other debris.
When your gutters are clogged and full of debris, water flows over the edge of the gutter and runs down the side of your home. Instead of water being diverted away from your home, as gutters are designed to do, the water can actually seep into walls and foundations. Over time, this improperly-diverted water can cause expensive damage not only to your home, but to your home's foundation as well.
Efficient Clogged Gutter Cleaning and Maintenance in the Raleigh Area
Standing water that collects near buildings can also contribute to musty walls, unplanned water runoff in landscaping, and increased presence of unwanted insects, such as mosquitoes. Another problem caused by clogged gutters is standing water in the gutters themselves. When rain is unable to pass easily through the gutter, it winds up stagnating in the drain spout. This can lead to damage to the structure where it is connected to the gutter and deterioration of the gutter itself.
Enjoy Peace of Mind and Add Life and Value to Your Triangle Area Property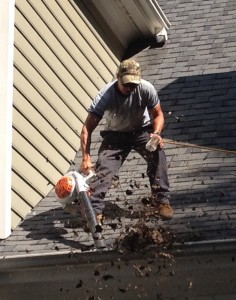 The best way to enjoy peace of mind, efficient gutters, and a healthy home is to have gutters cleaned at least twice a year. It's easy to include a gutter cleaning in a scheduled visit. Triangle Window & Pressure Cleaning also offers a maintenance program that ensures that your gutters are cleaned out on a regular basis.
We are proud to serve all of our customers' gutter cleaning needs in Cary, Morrisville, Apex, Raleigh, Durham, Chapel Hill, North Raleigh, Research Triangle Park (RTP), Holly Springs, and throughout the Triangle.
Triangle Window & Pressure Cleaning is ready to get your mind out of the gutter and go to work for you, adding years of life and value to your property.
Call us today at 919-678-9019 to schedule your on-site assessment and to receive a free estimate!